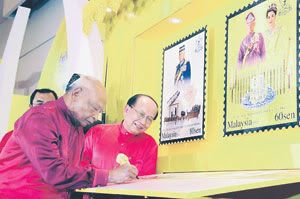 (picture from Utusan)
19th October 2010 – Pos Malaysia launch its new collection of Pahang Royal Heritage stamp and the first envelope of Sultan of Pahang, HRH Sultan Ahmad Shah, in conjunction of his birthday celebration. The 60 cent, 80 cent and RM1 stamps display the Pahang Ruler's Seal, Ceremonial tools, and portraits of Sultan and Sultanah of Pahang. It will be sell starting 24th October.
Present at the ceremony are the Sultan of Pahang, Sultan Ahmad Shah; Sultanah of Pahang, Sultanah Kalsom; Crown Prince of Pahang, Tengku Abdullah Sultan Ahmad Shah; Chief Minister of Pahang, Datuk Seri Adnan Yaakop; and Malaysian Minister of Information, Communication and Culture, Datuk Seri Dr Rais Yatim.