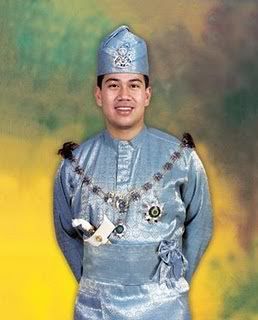 Tengku Muhammad Faiz Petra Sultan Ismail Petra, younger brother to Sultan Muhammad V of Kelantan is proclaimed as the new Crown Prince of Kelantan and Heir Apparent to the throne style as Tengku Mahkota Kelantan. The State Secretary, Datuk Mohd Aiseri Alias said, the decision was made by Majlis Perajaan Negeri, MPN which convened hosted by its Chaiman, Tengku Abdul Halim Sultan Ibrahim. The Proclamation Ceremony was made at Istana Kubang Kerian.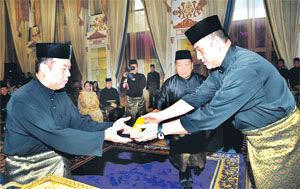 Sultan Muhammad V gives his consent to gives the letter of appointment to Tengku Muhammad Faiz as the new Crown Prince of Kelantan.
Tengku Muhammad Faiz, 36, is the second son of Sultan Ismail Petra Ibni Sultan Yahya Petra. He was born at Istana Kota Lama on 20th January 1974, appointed as Tengku Bendahara Kelantan on 30th March 1989 and Chaiman of Majlis Agama Islam dan Adat Istiadat Melayu Kelantan, MAIK since 21st January 2009.
According to the State Constitution, Tengku Muhammad Faiz will succeed the throne or become the State Regent when the Sultan of Kelantan is outside of the state more than 12 months or can't fulfill his duty as Sultan in the period of time.