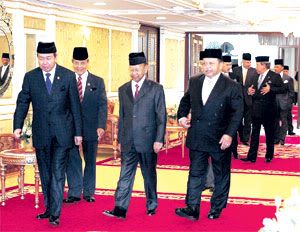 Sultan Sharafuddin Idris Shah of Selangor(left), Sultan Abd Halim of Kedah (center) and Raja Syed Sirajuddin of Perlis (right) depart to the meeting chamber to attend the meeting.
The 222nd meeting of the Conference of Ruler starts today and hosted by HRH Sultan of Selangor, Sultan Sharafuddin Idris Shah at National Palace. The meeting is attended by all State Rulers and Governors accept for Pahang, who is represented by HRH the Crown Prince of Pahang, Tengku Abdullah ibni Sultan Ahmad Shah and Perak, who is represented by the Regent, Raja Dr Nazrin Shah ibni Sultan Azlan Shah.
This is also the first meeting attended by Sultan Muhammad V of Kelantan after his proclamation as the Sultan of Kelantan.
Each of the Rulers is accompanied by their respective Chief Minister meanwhile the Governor of Sabah and Sarawak is accompanied by the Chief Minister's Representatives. The Yang di-Pertuan Agong (The Supreme Ruler) will host a banquet tonight to celebrate all the Rulers and Governors present at the meeting.