Yang Dipertuan Besar Negeri Sembilan, HRH Tuanku Muhriz ibni almarhum Tuanku Munawir gave his consent to attend the launch ceremony of Negeri Sembilan State Anthem which been re-composed by Tunku Zain-al Abidin, Tuanku Muhriz's second son. Also present at the ceremony are Tunku Ampuan Besar of Negeri Sembilan, HRH Tuanku Aishah Rohani, Tunku Zain-al Abidin and the Chief Minister of Negeri Sembilan, Datuk Seri Mohamad Hassan.
The State Anthem of Negeri Sembilan, Berkatlah Yang Dipertuan Besar was composed by Sir Andrew Caldecott, a British Officer who served as a District Officer and the lyrics was written by Tunku Zakaria Mambang. The anthem is re-composed due to existence of many versions and there are changes in term of melody, tempo and singing. This is the initiative of Tunku Zain-al Abidin to develop and standardize the anthem, and idea which he had when he was outside the country. The song was first played during the proclamation ceremony of Tengku Aishah Rohani as the Tunku Ampuan Besar (Queen) of Negeri Sembilan. It is also played during the coronation ceremony of Tunku Muhriz as the Yang Dipertuan Besar of Negeri Sembilan.
TRIVIA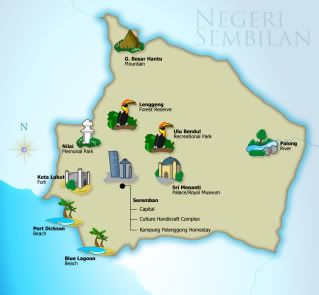 The Negeri Sembilan is one of the 13 states that formed Federation of Malaysia. It is located at Western Coast of Peninsular and bordered with Selangor, Pahang, Johor and Malacca. The state capital is Seremban while the Royal Seat is Seri Menanti. Negeri Sembilan is the only state where the Perpatih custom is widely practiced. The state is known for its Arabic honorific of Darul Khusus (The Special Abode).