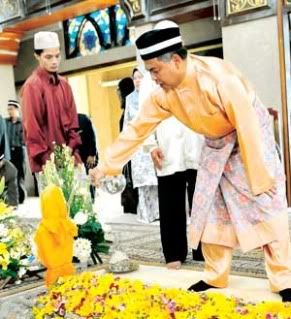 (Picture from Utusan)
The Menteri Besar visiting the tomb of Almarhumah Tengku Ampuan Bariah
The State Government of Terengganu has announces the 40 days mourning period after the death of Tengku Ampuan Bariah, stepmother of the Yang di-Pertuan Agong, HM Tuanku Mizan Zainal Abidin. The announcement has been made to all government agencies, statutory body and private sector to follow several prescribed rules regarding the mourning protocols. The mourning period started on 22nd March and will end on 29th April 2011.
According to the Menteri Besar (Chief Minister) of Terengganu, Datuk Seri Ahmad Said, the rules included the rules of daily attire, assembly, entertainment and the flag. For Government officials and civil servant, they have to wear the songkok with a white band about one inch wide for Malay men, and wearing a white hijab for Malay women. While for non-Malay, they need to wears black necktie or a black band on the right hand.
Any entertainment based programs organized by government or non-government organization are not allowed during the mourning period. The States and others flag accept for Jalur Gemilang shall be flying half of the pole in all premises and residential units.