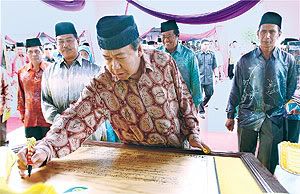 29th April 2010. HRH Sultan of Selangor, Sultan Sharafuddin Idris Shah has gives his consent to proclaim the opening ceremony of Sekolah Agama Menengah Tinggi Sultan Hishamuddin. Previously, the school is known as Sekolah Agama Menengah Tinggi Jalan Kota Raja Klang. Also present at the ceremony are Malaysian Deputy Prime Minister, Tan Sri Muhyiddin Yassin, Selangor Menteri Besar, Tan Sri Khalid Ibrahim, Director of JAIS, Datuk Mohamed Khusrin Munawi and state government officials.
In his speech, HRH Sultan Sharafuddin expressed his gratitude for the Federal Government which have funded the constructions and maintenance of all religious school in the state of Selangor. The Sultan also ordered the Ministry of Education and Selangor State Islamic Department (
Jabatan Agama Islam Selangor, JAIS
) to review the religious school syllabus. This is to ensure the religious school not only cover the Islamic education but also include other subjects like Science, Mathematics and others.
The State Rules and Regulation
At the same time, HRH Sultan Sharafuddin Idris Shah also ordered all citizens including politicians to follow the state rules and regulations including the prohibition of any political talks inside the masjids. His Royal Highness said, if they want to come to Selangor, they must follow all rules and regulation of the state.