Assalamualaikum and Peace be upon all of you..
Thanks for viewing my blog.
Royalty sections for today will covered about the Pahang Royal Family. Ruler of Pahang is style as HRH Sultan of Pahang.
The current Sultan of Pahang is
HRH Sultan Ahmad Shah ibni Almarhum Sultan Abu Bakar Riayatuddin Shah
. He is the 5th Sultan of Modern Pahang. His reign start since 1974.
The consort of Sultan of Pahang is style as Tengku Ampuan Pahang, but the current consort is styled as Sultanah of Pahang. The current consort is
HRH Sultanah Kalthom
.
HISTORY
The history of the Sultanate of Pahang can be traced back since the early pre-islamic era. It is founded as a vassal state to the Sultanate of Malacca, later became a territory of the Sultanate of Johor before becoming an independence Sultanate in 1861. In early age, the State is known as Inderapura. Since its foundation in 1470, the State has been ruled by two dynasty, the descendant of Malaccan Royalty and the Johorean House of Bendahara.
The history of modern Pahang started almost significantly with the fall of Johor-Riau Empire. After the line of Malaccan Royalty as the ruler of Pahang ended with the Acheh's invasion, the Johorean House of Bendahara takes control over the land. Thus, Pahang became a territory of Johor-Riau Empire centered in the south. The House of Bendahara later control the dominion with a ruler from the family, known as the
Bendahara of Pahang
. Even though the dominion does not received direct conflict between Sultan Ali from the House of Bendahara and Temenggung Ibrahim from the House of Temenggung to get the Johorean throne, it still play a major role. In 1861, a mutual agreement was signed between Temenggung Ibrahim of Johor and Bendahara Tun Mutahir of Pahang, recognizing both remnant of the Empire of Johor-Riau to split into two independent Sultanate.
Earlier in 1847, Bendahara Tun Ali retired and transferred his power and authority to Tun Mutahir. Tun Mutahir previously has married to Che Puan Lingga in 1832, and thus was invested the title as the Bendahara Muda of Lingga. Tun Ahmad is among his son produced by the marriage. But in 1857, Bendahara Tun Ali signed a death sentenced to Tun Ahmad. The event resulted Tun Ahmad to flee to Singapore. Tun Ahmad returned to Pahang after the death of Bendahara Tun Ali, only to trigger a conflict with Bendahara Tun Mutahir. The conflict resulted a civil war known as the Pahangite Bendahara War. The conflict also received a political intervention from the Sultan of Terengganu, Johorean House of Temenggung and British. The conflict only come to an end with the death of Bendahara Tun Mutahir in 1863, and Tun Ahmad was hailed as the new Bendahara of Pahang. With the advised from the Sultan of Johor, Bendahara Tun Ahmad proclaimed himself as
the Sultan of Pahang
, Sultan Ahmad Al-Mu'adzam Shah in 1884, thus becoming the first Sultan of modern Pahang. The current Pahang Royal Family is the descendant of Sultan Ahmad.
The Pahangite Royal Family currently ruled the largest State among all reigning Malay Sultans. The State occupied the largest land area, having a vast are of green rainforest and having among 10 most beautiful Island in the world.
HERALDRY
ROYAL FAMILY
Sultan Ahmad Shah married twice. First with Almarhumah Tunku Ampuan Afzan binti Tengku Muhammad and second with Sultanah Kalthom. He has 3 sons and 5 daughters.
(with Tengku Ampuan Afzan)
Tengku Meriam (1955)
Tengku Muhaini (1956)
Tengku Aishah Marcella (1957)
Tengku Abdullah (1959), Tengku Mahkota
Tengku Abdul Rahman (1960), Tengku Muda
Tengku Nong Fatimah (1962)
Tengku Shahariah (1964)
(with Sultanah Kalthom)
Tengku Abdul Fahd Muadzam (1994), Tengku Arif Temenggung
*Tengku Abdullah married twice. First with Tunku Azizah Ibni Sultan Iskandar (Johor) and second with Cik Julia Rais. He has 3 sons and 5 daughters
(with Tunku Azizah) : Tengku Hassanal Ibrahim Alam Shah (1995), Tengku Muhammad Iskandar (1997), Tengku Ahmad Ismail (2001), Tengku Afzan Amina Hafizatullah (2001), Tengku Putri Nur Jihan (2002)
(with Julia Rais) : Tengku Putri Iman Afzan, Tengku Illisha Amira, Tengku Ilyana
*Tengku Abdul Rahman married with Cik Julita Aishah. Currently has 1 daughter and 3 sons.
Tengku Ameera Asya (2003), Tengku Eddie Akasya (2004), Tengku Ahmad Firman Shah (2005), ?? (??)
PALACE
Officials Palace for Sultan of Pahang is Istana Abu Bakar located at Pekan, Pahang.
INHERITANCE
Rule of succesion in Pahang is male primogeniture amongst the descendants of H.H. Paduka Sri Baginda Sultan Sir Ahmad al-Mu'azzam Shah ibni al-Marhum Bendahara Sri Maharaja Tun 'Ali
**The line of Successions.
Tengku Abdullah Ibni Sultan Ahmad Shah, Tengku Mahkota Pahang
Tengku Hassanal Ibrahim bin Tengku Abdullah
Tengku Muhammad Iskandar bin Tengku Abdullah
Tengku Ahmad Ismail bin Tengku Abdullah
Tengku Abdul Rahman Ibni Sultan Ahmad Shah, Tengku Muda Pahang
Tengku Eddie Akasya bin Tengku Abdul Rahman
Tengku Ahmad Firman Shah bin Tengku Abdul Rahman
(third son of Tengku Abdul Rahman)
Tengku Abdul Fahd Muadzam Ibni Sultan Ahmad Shah, Tengku Arif Temenggung Pahang
**Subject to changes
GALERIA
Some of the pictures of the royal family ;-
Picture of Sultan and Sultanah of Pahang.
Sultan and Sultanah of Pahang
Pictures of the Princes of Sultan of Pahang.
Crown Princess of Pahang, Tunku Azizah with her sons and daughters.
His Highness Tengku Hassanal Ibrahim Alam Shah bin Tengku Mahkota Abdullah
The second in line to the Pahang throne
Tengku Muhammad Iskandar (left) with his older brother
Tengku Ahmad Ismail (center) with his elder brothers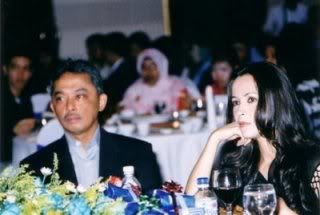 A rare sight of Crown Prince of Pahang, Tunku Abdullah with his second wife, Cik Puan Julia Rais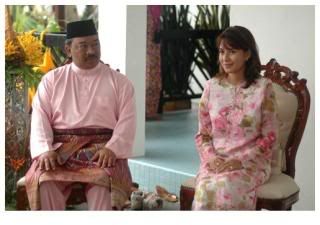 Tengku Muda Pahang, Tengku Abdul Rahman and wife, Che Puan Julita Aishah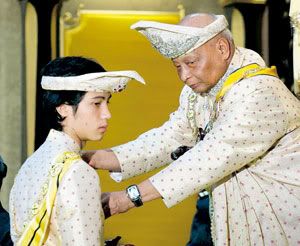 Tengku Arif Temenggung Pahang, Tengku Fahd