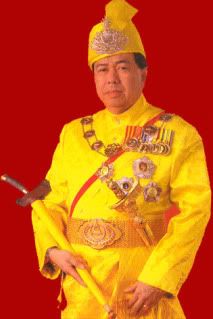 HRH The Sultan of Selangor, Sultan Sharafudin Idris Shah is unhappy with a certain groups who migrate to the state, especially the ethnic Malay who are willing to question the status and privileges of the Malays, and whether the Malay Royal Institution are still relevant and their role in the country's governance system. The questioning of the Malay privileges are also one of this certain group objectives who wanted the Constitutional Monarchy system adapted in Malaysia to be checked and reviewed. The group also gives an unreasonable and improper excuses like the country has been modernized and the current system is outdated in order to realize their objectives.
In recent event, the Sultan also upset with a certain group of Malay who ashamed to be a Malay. The Sultan also asked to those individual in the ceremony, are they does not proud and honoured to be a Malay up to the extend wanted to abolished the word Malay from the face of the earth. In the history, the English Colonial themselves acknowledge the existence of Malay, with the existence of Tanah Melayu, Federated Malay States, and the Malay Kings in the history that writes by them. In the ceremony, The Sultan also stating that his speech was not to ignite the racial tensions but to express that all citizens of Selangor must be proud of the ethnic composition in the state which is a multi-racial state. His Royal Highness also called all citizens of Selangor to understand the history of the state and nation so the suspicion feeling with each other can be avoided. The Sultan also expresses his happiness to the Federal Government to announce the History subject as compulsory subject in school.
Also presences during the Sultan of Selangor 65th birthday celebration ceremony are The Chief Minister of Selangor, Tan Sri Khalid Nordin and other state's senior leaderships.