Assalamualaikum and Peace be upon all of you
Welcome to my blog.
Yesterday at 8.10pm, all of my family members are watching the television for a historic moment, the declaration ceremony of Malacca as a full-developed state. The declaration is made after the state achive 28 out of 31 requirement state by OECD. The declaration is held lives at Stadium Hang Tuah, Melaka between the Chief Minister of Malacca, Datuk Mohd Ali Rustam at Stadium Hang Tuah and the Prime Minister of Malaysia, Datuk Seri Najib Tun Razak at PWTC, Kuala Lumpur. After the Prime Minister signing the declaration, a series of fireworks gets the attention from all spectators watching the events.
Malacca River Cruise
Later, my father told me that we also get the invitation postcard to go to the event. He said to me that no one in the family realize it. Well, even if we did realize it, we still watch the event from television, that's for sure. (
I know my father well. Huhu…
). It takes Datuk Ali Rustam almost 10 years of hard work to make the state to become a developed state. And, according to some information I get, Malacca now almost in par with the Republic of Singapore. The government offices work real fast. Malacca, the world Heritage city is absolutely the proud of Malaysia.
The fireworks at Stadium Hang Tuah
Wawasan Malaysia 2020
Malaysia currently has a mission to become a full-developed nation by the year 2020. So, we still have only 10 years to go. And currently, we have 2 developed state in Malaysia, Selangor and Melaka, clearly still not enough. And we should not forget the state of Sarawak and Sabah. Developing these two states is important to realize the 2020 vision. (
Two big states that mean everything
)
Among the requirement needed to become a full-developed nation are high development index (HDI), industrialization, and high gross domestic product (GDP) per capita. Nevertheless, aside from developing the countries, we actually move too much to develop a landmark. Most notable,
high-rise building
. Did we need it too badly?
In the budget 2011, the Prime Minister has noted the development of 100-stories Menara Warisan cost around RM5 billion. Well, I do not state it as a waste, but, what is the rational building this Menara Warisan? I don't see any rational except for Menara Warisan will be the tallest building in Malaysia
Menara Warisan
I do not have a requirement to advise the government, but here I stated my opinion to the new generation of Malaysia (around 20 – 25 years old). We already have KL Tower and Petronas Twin Tower, why should we build another?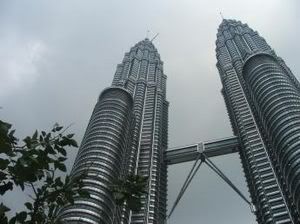 Tun Dr. Mahathir once said, the building of Petronas Twin Tower is to show the world that we are here. And, as once a highest tower in the world, it has done its job promoting a national identity of Malaysia.
Like I said before, to be a developed country doesn't need us to build a high-rise building. Just imagine what we can do with RM5 billion if we allocate it to improving the standard of life, especially in Sabah and Sarawak. Just imagine what have befallen to Plaza Rakyat project at Kuala Lumpur.
The lost project of Plaza Rakyat (RM 1.4 billion project)