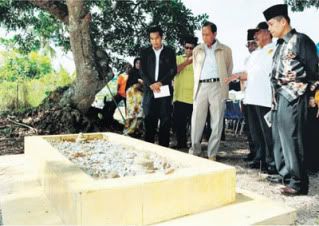 (picture from Maharum Bugis Shah)
His Royal Highness the Tunku Temenggong of Kedah, Tunku Sallehudin ibni Almarhum Sultan Badlishah consent to visit the Kedahan Royal Graveyard at Kampung Kota, Permatang Pasir, Bukit Mertajam, Pulau Pinang. 8 tombs were found around the area where five of them were marked by the grave tombs. Among them were the grave of the late 20th Prince of Sultan Muhammad Jiwa, Tunku (Prince) Sulaiman and his cousin, Tunku Kutam.
According to history, Tunku Sulaiman reside in Kampung Kota from 1804 - 1845 to go into seclusion from the throne succession crisis of the 22nd Sultan of Kedah. It is also the place where Tunku Sulaiman and his brother, Sultan Ahmad Tajuddin evacuate when the Sultanate of Kedah was invaded by the Kingdom of Siam in 1821.
The State of Kedah Museum Board stated that, the graveyard will be conserved and dubbed as State Heritage Site.