Assalamualaikum and Peace be upon all of you
Welcome to my blog.
Good morning to all my friends, visitors and blogwalkers. As you can see, today is the first of October. Time really does fly so fast. Nevertheless, it is a month for my long awaited events, Convocation!! Yes~~ finally I can be proud of myself to be a university graduate. Probably all of you who have visits my blog since its foundation see the blog new caption.
Malaysia : Land of Nine Kings.
Some of my visitors have commented that the caption somehow touched them. They are really happy about it. Thank you very much. Since 2009, I have always wanted to have my own Royal Portal. So, for starters, I have decorated my blog with information about our Royal Family. And in fact, we have nine of them.
The Nine Kings
First of all, I don't really have an idea what an ideal caption until one days, I heard this in a movie ;
"Rise, Kings and Queens of Narnia"
Yes~~ from the Chronicle of Narnia. They are refers to as The Four Kings and Queens of Narnia. That's where the name comes from. I really love the show.
From left; Queen Lucy, High King Peter, Prince Caspian X, Queen Susan, King Edmund
If you want to see daily news about each member of the royal family, simply click the "Royal Portal" topic in the blog's topic list at the right. There are also a listed of royal information of each respective states.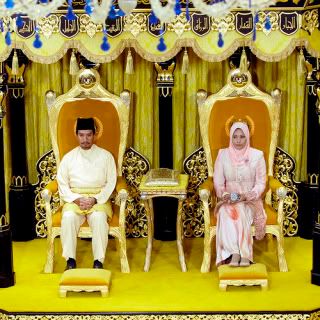 The King and Queen of Malaysia
(also known as The Supreme Ruler of Malaysia)
I wanted my blog to see more "Malaysian", so I will put up the "Governorate Portal" in the near future. Malaysia have 13 states, with nine of them is a constitutional monarchy and four of them head by a Governor styled as "Yang Dipertua Negeri". None of us will be left behind.
Untill next time,
Bye~~~