DUN Kelantan
Today, the Special session of Kelantan State Assembly seating unanimously agreed to pass the amendment of Royal Allowances to the member of Kelantan Royal Family. Two enactment includes in the amendment are the Royal Family Allowances and the Queen of Kelantan Allowances.
The bill is proposed by Chief Minister of Kelantan, Datuk Nik Abd Azik Nik Mat and supported by his deputy, Datuk Ahmad Yaakob. This amendment allowed the former Sultan of Kelantan, Sultan Ismail Petra ibni Almarhum Sultan Yahya Petra and his consort, Raja Perempuan Anis to received monthly allowances after the proclamation of the new Sultan of Kelantan, Sultan Muhammad V.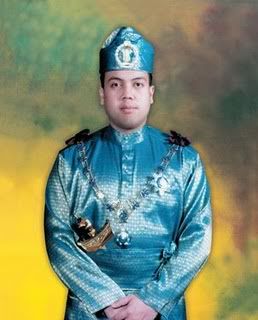 Tengku Muhammad Fakhry Petra
Meanwhile, HRH Sultan of Kelantan, Sultan Muhammad V strips the titular title of 'Tengku Temenggong' held by his brother Tengku Muhammad Fakhry Petra starting officially today. There are also several other State Medal and Honors been stripped from Tengku Muhammad Fakhry. The announcement was made by Kelantan's State Secretary, Datuk Mohd Aiseri Alias.