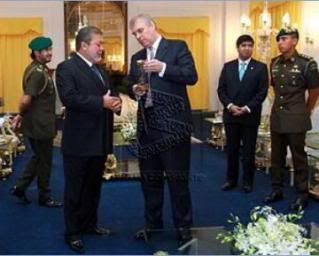 (picture from Bernama)
HRH Sultan Ibrahim of Johor spends time mingled with HRH the Duke of York at the Grand Palace of Johor Bahru. Also can be seen is HRH the Tunku Mahkota (Crown Prince) of Johor, Tunku Ismail Idris (left); HRH the Tunku Temenggong of Johor, Tunku Idris Iskandar (two from right) and Tunku Abdul Rahman Hassanal Jefri (right)

His Royal Highness the Sultan of Johor, Sultan Ibrahim ibni Almarhum Sultan Iskandar consent to received an audience of His Royal Highness the Duke of York, Prince Andrew at the Istana Besar of Johor Bahru. The Prince arrived at 10.30 am spending about 30 minutes mingled with the Sultan of Johor. The Duke of York is currently on a three-day official visits in Malaysia previously attending the opening ceremony of Newcastle University Medicine Malaysia (NUMed) which focusing on medical courses in Iskandar Malaysia (IM), formerly known as Iskandar Development Region (IDR).