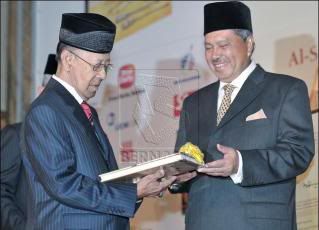 (picture from Bernama)
HRH Tuanku Abdul Halim Muadzam Shah consent to read the 16th volumes The Rulers of Malaysia, the last volume of The Encyclopedia of Malaysia series.

His Royal Highness the Sultan of Kedah, Tuanku Abdul Halim Muad'zam Shah ibni Almarhum Sultan Badlishah consent to launch a book on the history of the monarchy, protocol, culture and royal traditions in the country. The book "The Rulers of Malaysia" is the 16th and last volume in "The Encyclopedia of Malaysia" series written by 23 historians and academicians over five years. The book consist of 80 articles and over 750 illustrations such as photos, stamps and maps.
In his statement, the Sultan congratulated chairman of the editorial advisory committee Tun Ahmad Sarji Abdul Hamid and the publisher for their efforts in compiling and completing the book. Also accompanied the Sultan was Her Royal Highness the Sultanah of Kedah, Sultanah Haminah.
The first volume of "The Encyclopedia of Malaysia" series was first published in 1998. It took over 15 years to complete all 16 volumes. "The Rulers of Malaysia", priced at RM95 per copy, can be found at all major book stores nationwide beginning next Monday.