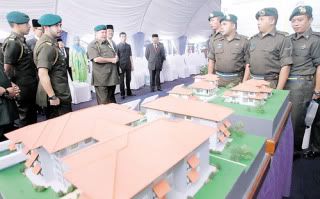 (picture from Utusan)
HRH Sultan Ibrahim watching the model of the new JMF camp witnessed by the Crown Prince, Tunku Ismail

His Royal Highness the Sultan of Johor, Sultan Ibrahim ibni Almarhum Sultan Iskandar consent to officiate the ground-breaking ceremony of Johor Military Force (JMF) camp at Jalan Datin Halimah, Johor Bahru. The construction of a new camp costing of RM118.7 mil located on a 51.2 acre site. The camp will be build in four phases by Johor Corporation (JCorp) and due for full completion by 2018. Also accompanied the Sultan were his two sons, His Royal Highness the Tunku Mahkota (Crown Prince) of Johor, Tunku Ismail Idris and His Highness Tunku Abdul Rahman Hassanal Jefri.
The Menteri Besar of Johor, Dato' Abdul Ghani bin Othman in his statement said, the camp will be equipped with facilities and infrastructure to help members focus more on duties and responsibilities to the ruler and state. The camp is designed using the vernacular concept of Malay architecture with tropical climate features. It includes the headquarters building, surau, dining hall, shooting range, weapons and ammunition store, officers building and watchtowers.
JMF was established in 1886, making Johor the first state among the States in Malaysia to have its own army, and currently is the only State in Malaysia that has its own army. The Royal Malay Regiment (RMR) was only established in 1933. Datuk Onn bin Jaafar, Former Prime Minister Tun Hussein bin Onn and former defence forces chief Gen (Rtd) Tun Ibrahim Ismail is among the Johorean leaders who have served in Johor Military Force.