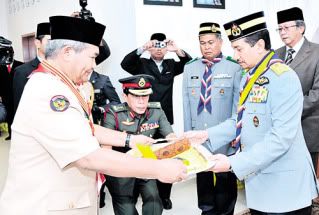 (picture from Bernama)
HM Tuanku Mizan Zainal Abidin received the Tunas Kencana Medal from Indonesian Pramuka Chairman, Prof Dr Azrul Azwar.
His Majesty the Yang di-Pertuan Agong, Tuanku Mizan Zainal Abidin consent to open the 12th Malaysian Jamboree and the 2011 Terengganu International Scout Jamboree at the Telaga Batin South Camp in Seberang Takir, Kuala Terengganu. At the same event, His Majesty pronounced that the Telaga Batin South Camp was being renamed as the Tengku Muhammad Ismail Scout Camp, named after his eldest son.
The jamborees taking 'Exploring Heritage' as its theme began on Thursday and ends on November 25, involves 10,000 participants, both from local and foreign countries. Among the countries taking part are Singapore, Sri Lanka, Vietnam, Japan, Nepal, Hong Kong, Maldives, Egypt, Indonesia, Kazakhstan and Brunei Darussalam.
Also accompanied His Majesty Tuanku Mizan Zainal Abidin was the Menteri Besar of Terengganu, Datuk Seri Ahmad Said and was received by National Chief Scout, Datuk Seri Paduka Dr Shafie Mohd Salleh.