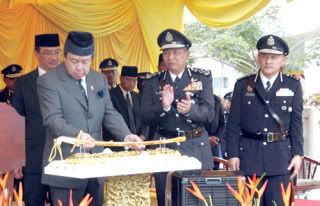 (picture from Bernama)
HRH Sultan Sharafuddin Idris Shah put the sword as a symbolic of the police contingent new headquarter at the vicinity of IPK Selangor

His Royal Highness the Sultan of Selangor, Sultan Sharafuddin Idris Shah consent to officiate the inauguration ceremony of Selangor Police Contingent Headquarter and Shah Alam Police District Headquarter at Shah Alam, Selangor. Attending the ceremony were Home Minister, Datuk Seri Hishamuddin Tun Hussein; Inspector General of Police, Tan Sri Ismail Omar; his Deputy, Datuk Seri Khalid Abu Bakar and Selangor Police Chief, Datuk Tun Hisan Tum Hamzah.
In his speech, the Sultan express his sadness and upset with the action made by certain parties in the State who always criticizing and bad-mouth the Police. Thus, the Sultan
ordered
all the people
in the state
to continue to
comply with
the law and
support the
police
duties
to ensure
the country
remains peaceful
and quiet
.
In addition,
he
also reminded
the police force
to
maintain discipline
and
integrity
, including
ensuring that
the evidence
for
a case
to
continue to
be treated with
care
so that
they are not lost
or damaged
.