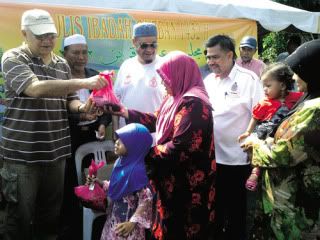 (picture from Utusan)
HRH Tengku Abdul Halim of Kelantan distributed the sacrificial meat to 800 inhabitants of Tanjung Chat Sub-district in Kota Bharu, Kelantan

The Kelantanese Royalty Al-Muhammadi Association sacrificed 20 cows in the qurban ceremony in conjunction of Eid-Adha Celebration at Masjid Mukim Tanjung Chat, Kota Bharu. The meats later were distributed to almost 800 inhabitants from 12 nearby villages in the sub-district including the poor and unfortunate. The ceremony organized by the club's religion and welfare bureau with cooperation of the villagers and Masjid's Committee members was headed by His Royal Highness the Tengku Laksamana of Kelantan, Tengku Abdul Halim ibni Almarhum Sultan Ibrahim.
The Kelantanese Royalty Al-Muhammadi Association is an association which consist and united the extended members of Kelantanese Royal Family descended from Long Yunos. It is believe to have 300 members to date.