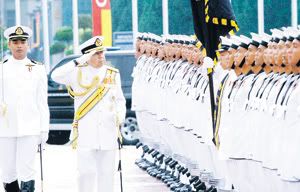 (picture from Utusan)
HRH Sultan Sharafuddin Idris Shah inspecting the Guard-of-Honour in conjunction of State Warriors Day Celebration in Shah Alam.

His Royal Highness the Sultan of Selangor, Sultan Sharafuddin Idris Shah ibni Almarhum Sultan Salahuddin Abdul Aziz Shah have gave his consent to officiate the Selangor State Level of Warriors Day Celebration. The Sultan complete the ceremony by placing the garland at Selangor State Monument in Shah Alam. The Sultan complete at 8.30 am following by the Menteri Besar of Selangor, Tan Sri Khalid Ibrahim; Commander 11th Brigade, Brigadier Jeneral Datuk Md. Azman Rosli; and State Deputy Chief of Police, Datuk A. Thaiveegan.
Also attended the ceremony were the State Executives Councillors, Chairman of Former Malaysian Police Association of Selangor, Mohd Hanafiah Abd Manaf and Chairman of Former Military Association of Selangor, Mohd Din Husnin and other former military and polices.