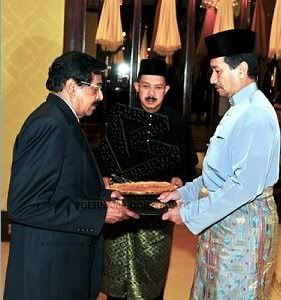 (picture from Bernama)
HM Tuanku Mizan Zainal Abidin delivered the Letter of Appointment to Datuk G. Palanivel as a Minister

His Majesty the Yang di-Pertuan Agong (The Supreme Ruler) of Malaysia, Tuanku Mizan Zainal Abidin gave his consent to deliver the Letter of Appointment to the President of MIC, Datuk G. Palanivel as a Minister in a Prime Minister Department. In the ceremony held at the Istana Negara, Datuk G. Palanivel also takes the Oath of Loyalty and the Oath of Secrecy before the Yang di-Pertuan Agong.
His appointment as Minister was announce by Prime Minister Datuk Seri Najib Tun Abd Razak on July 30, 2011 at the MIC General Assembly. Also attended the ceremony were Prime Minister, Datuk Seri Najib Razak; Deputy Prime Minister, Tan Sri Muhyiddin Yassin and the Speaker of Dewan Negara (Senate), Tan Sri Abu Zahar Ujang.
Datuk G Palanivel, 62 serves as Member of Parliament of Hulu Selangor from 1990 to 2008. In the 12th General Election, he lost the seat of Hulu Selangor to Datuk Dr Zainal Abidin Ahmad from PKR with the majority of 198 votes. He succeeded Datuk Seri S Samy Vellu as the President of MIC on 6th December 2010. Before his appointment as Minister, he was appointed as Deputy Minister of Plantation Industries and Commodities in a small Cabinet reshuffling on June 4, 2010.