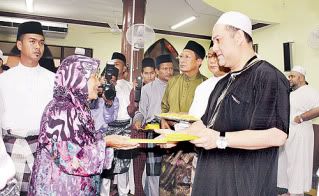 (picture from Utusan)
HRH Sultan Muhammad V consent to deliver the zakat in the Inauguration Ceremony of Masjid Ibadurrahman.

His Royal Highness the Sultan of Kelantan, Sultan Muhammad V gave his consent to officiate the Inauguration ceremony of Masjid Ibadurrahman at Taman Pemuda Sentosa, Wakaf Stan, Kubang Kerian. The Sultan wearing the black robe and white kopiah arrived at 8.30 pm and put his signature as the symbolic of the Masjid inauguration ceremony. Later, Sultan Muhammad V alongside 500 jamaah perform the Isyak Prayer and Tarawikh.
After the solah, the Sultan Muhammad V consent to deliver the zakat to around 200 recipients consist of orphans, disabled, elderly, single mothers and poor students resides in the sub-district. The jemaah of Masjid Ibadurrahman takes this opportunity to shakes hand and mingle with the Sultan. The construction of Masjid Ibadurrahman was completed 2 years ago. With the inauguration, the Friday Prayer can be performed in the Masjid.