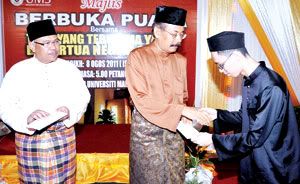 (picture from Utusan)
HE Tun Juhar bin Mahiruddin delivered the zakat to one of UMS students at Masjid UMS.

His Excellency the Yang Dipertua Negeri (Governor) of Sabah, Tun Juhar bin Mahiruddin and wife, Toh Puan Norlidah binti RM Jasni consent to attend the breaking fast ceremony held at Universiti Malaysia Sabah (UMS). Also attended the ceremony were Chairman of the UMS Board of Director, Tan Sri Abdul Hamid Egoh; Vice Chancellor of UMS, Datuk Dr Kamaruzaman Ampon; The Mufti of Sabah, Sahibus Sahamah Datuk Alawi Adnan; officers and UMS Students.
In the ceremony, His Excellency delivered the
zakat
to UMS's students and staffs who are less fortunate and Eid-Fitri contribution to 90 students of Sekolah Rendah Islam Al-Hafiz, Bandar Sierra.