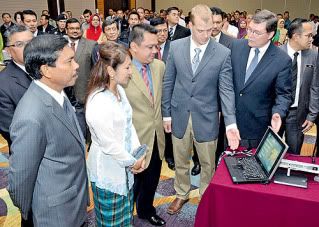 (picture from Utusan)
HRH Tuanku Syed Faizuddin Putra Jamalullail and HRH Tuanku Lailatul Shahreen Akashah Khalil hearing an explanation from HISG Presenter in Kangar.
His Royal Highness the Raja Muda (Crown Prince) of Perlis, Tuanku Syed Faizuddin Putra Jamalullail gave his consent to officiate the seminar of Mengenai Persediaan Menghadapi Bencana,
Disaster Preparedness
by Humanitarian International Services Group (HISG) organized by Perlis State Government in collaboration with Majlis Keselamatan Negeri (MKN) Perlis, Yayasan Tuanku Syed Putra and Universiti Malaysia Perlis (Unimap). Accompanied the Crown Prince is his wife, Her Royal Highness the Raja Puan Muda (Crown Princess) of Perlis, Tuanku Lailatul Shahreen Akashah Khalil.
In the ceremony, the Crown Prince stated that, even though Malaysia is free from a natural disaster such as volcano eruption, earthquake and typhoon, Malaysian must be prepared to faces the effect of the disaster as flood and tsunami had once occur in some part of Malaysia. Thus, the people need to ensure that Malaysia is really prepared to face any disaster.
Also attended in the ceremony were the State Secretary, Datuk Azizan Hamid and the Vice Chancellor of Unimap, Prof. Datuk Dr. Kamarudin Hussin. HISG is an association of Chicago, United States which has expertise in training and advising about techniques in the face disaster. About 150 participants from government agency, private, corporate, tertiary education institution and non-government organization taking part in the five-day seminar.