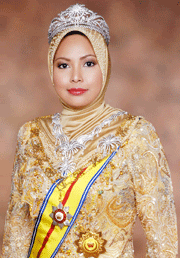 Her Majesty the Raja Permaisuri Agong (the Supreme Queen) of Malaysia, Tuanku Nur Zahirah consent to deliver financial aid worth of RM122,400 to nine recipients who are in need of funds for medical treatment. The money was contributed by Shangri-La Hotel as part of the hotel's annual charity project that concentrates on giving children who are suffering from severe ailments such as congenital heart disease, hole-in-the-heart and other problems much-needed aid.
In addition to that, 58 disabled children from Pusat Penjagaan Kanak-Kanak Cacat Taman Megah, Petaling Jaya also received
duit raya
and presents at the function.