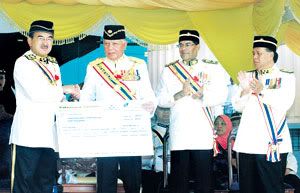 (picture from Utusan)
Datuk Seri Mohd Ali Rustam delivered a replica check of RM50,000 to the Governor of Melaka, Tun Mohd Khalil Yaakob in the ceremony.

His Excellency the Yang Dipertua Negeri (Governor) of Melaka, Tun Mohd. Khalil Yaakob has agreed to officiate the launching ceremony of Malacca Warriors Day Celebration Appeal Fund held at Dataran Seri Negeri,
Seri Negeri Square,
Ayer Keroh. The Governor also received many checks contribution from various parties worth of almost RM85,400.
Among those who have contribute are the State Government who donate almost RM50,000; Jabatan Agama Islam Melaka,
Melaka Islamic Religious Department,
RM7,000; Perbadanan Kemajuan Negeri Melaka, Syarikat Air Melaka, Telekom Malaysia Bhd and Hasnah Enterprise contribute RM5,000 respectively. Also contribute in the ceremony are EON Islamic Bank, RM2,400; Universiti Teknikal Malaysia Melaka, RM2,000; while Kumpulan Melaka Bhd, Hang Tuah Jaya Municipal Council, Alor Gajah Municipal Council and Yayasan Melaka all contributes RM1,000 respectively.
The contribution shall be given as a welfare assistance to the former military and police. Also attended the ceremony was the Chief Minister of Melaka, Datuk Seri Mohd. Ali Rustam.