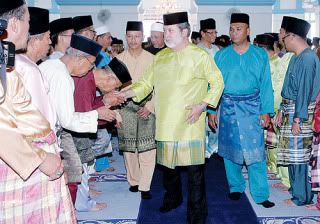 (picture from Utusan)
HRH Sultan Ibrahim shakes hand with the jamaah at Masjid Pasir Pelangi during the Johor State Level Khatam Al-Quran Ceremony.
His Royal Highness the Sultan of Johor, Sultan Ibrahim ibni Almarhum Sultan Iskandar gave his consent to attend the Johor State Level Khatam Al-Quran ceremony held at Masjid Pasir Pelangi, Johor Bahru. Also accompanied the Sultan were his consort, HRH Tuanku Raja Zarith Sofia ibni Almarhum Sultan Idris Shah; His Royal Highness the Tunku Mahkota (Crown Prince) of Johor, Tunku Ismail Idris ibni Sultan Ibrahim and His Highness the Tunku Temenggong of Johor, Tunku Idris Iskandar ibni Sultan Ibrahim.
In the ceremony, the Sultan Ibrahim reminded to all State Authority including Masjid's Officer, Imam and Bilal to not use Masjid for personal worldly things or make it as a political arena. The reminder from the Sultan is due to an existence of several Imams recently who did not follow the state regulation and does not read the text of Friday Sermon issued by the Majlis Agama Islam Johor (MAIJ),
Johor Islamic Religious Council.
Thus, the Sultan demanded MAIJ to act decisively in
enforcing

the Islamic law

as well as

requesting

the Masjid's Officers

,

the imam

and

Bilal to

always

take care of themselves

and be responsible for

the work

entrusted to them.