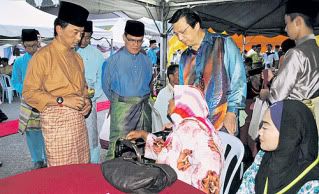 (picture from Utusan)
HRH Tengku Abdullah chatting with the recipient of the contribution. Menteri Besar Datuk Seri Adnan and Datuk Seri Liow Tiong Lai also present.

His Royal Highness the Tengku Mahkota (Crown Prince) of Pahang, Tengku Abdullah ibni Sultan Ahmad Shah gave his consent to attend the breaking fast ceremony and distribution of contribution to the less fortunate at the vicinity of Masjid Daerah Bentong,
Bentong District Masjid
. Also accompanied the Crown Prince were the Menteri Besar (Chief Minister) of Pahang, Datuk Seri Adnan Yaakob and the Minister of Health, Datuk Seri Liow Tiong Lai, who is also the Member of Parliament of Bentong Constituency.
In the ceremony, the Crown Prince urged the State Government to make a review of developing a new satellite city in the Bentong District. It is to reduce the burden of the inhabitants especially in the city area which faces a heavy traffic congestion. The Crown Prince also trapped in the congestion while on the way to the ceremony.
A long term research need to be done to reduce the burden of the population in addition to utilize the full potential of the Bentong District with its strategic location, which is very close to Kuala Lumpur with a development of architectural infrastructure.