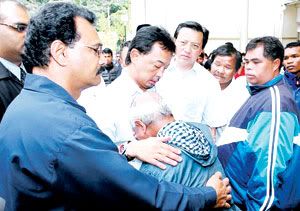 (picture from Utusan)
HRH Tengku Abdullah calms one of the victims at the SJK (C) Brinchang Hall
His Royal Highness the Tengku Mahkota (Crown Prince) of Pahang, Tengku Abdullah Ibni Sultan Ahmad Shah gave his consent to visit the location of landslide at Cameron Highland which resulted 7 death. In the visit, the Crown Prince has consent to deliver his personal contribution to 594 victims from 99 families when visiting the Brinchang Multi-Purpose Hall which evacuated the victims of the landslide.
In his visits, the Crown Prince has ask to the State Government to study the safety level around the area of Aboriginal Tribes Village of Kampung Sungai Ruil which suffered from the landslide. The study is vital as the uncertain weather conditions can contribute to natural disasters, particularly in hillside settlements.
The Crown Prince also gave his hope that the victims who lost their home in the disaster and have a risk to return to their home will be given a new settlement.
(picture from Utusan)
Location of the landslide at Kampung Sungai Ruil, Cameron Highlands