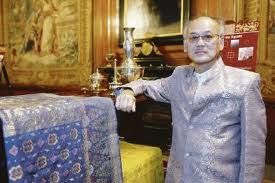 A member of Terengganuan Royal Family, His Highness Tengku Ismail bin Tengku Su died at Royal Brompton Hospital, London at 4.30pm. Tengku Ismail was dubbed as Prince of Songket in the past due to his service to uphold the tradition of Songket, a traditional fabric commonly wears by royalty.
Tengku Ismail, 60 was admitted to the Hospital's Intensive Care Unit (ICU) for a month after suffered a heart attack twice. His younger brother, Tengku Yusof was at his side during his last breath. Tengku Ismail was at London to exhibit his Songket Collections at Royal Weaving Exhibition held at Prince's School of Traditional Arts. He also wants to attend the invitation and give presentation at the Asia House.
According to his close friend, Wan A. Suhaimi, the body of the late Tengku Ismail shall be buried at Ilford Cemetary.