(picture from Bernama)
HE Tun Abg Muhammad Salahuddin received the salutation from 13th Royal Malay Regiment at the celebration parades at Padang Merdeka
His Excellency the Yang Dipertua Negeri (Head of State) of Sarawak, Tun Abang Muhammad Salahuddin bin Abang Barieng celebrated his 90th Birthday Celebration. Almost 1,500 participants taking part in the celebration performance held at Padang Merdeka, which consist of primary and secondary school students, university students and members of associations and non-government organizations.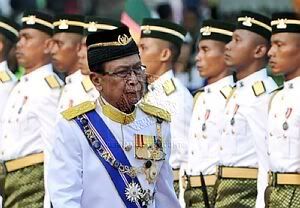 (picture from Bernama)
HE Tun Abg Muhammad Salahuddin inspecting the Guard-of-Honour
In the ceremony, the Yang Dipertua Negeri consent to inspect the Guar-of-Honour mounted by the Malay Royal Regiment. Later, the Yang Dipertua Negeri witness the celebration parades and take salutations from the 13th Malay Royal Regiments. Also present at the celebration parades were Chief Minister, Tan Sri Abdul Taib Mahmud and Deputy Chief Minister, Tan Sri Alfred Jabu.
(picture from Bernama)
HE the Governor, Chief Minister and Deputy Chief Minister during the conferred medal ceremony with their respective wives.
In conjunction of the birthday celebration, 909 recipients received a state medal and honorary titles from the Yang Dipertua Negeri. The first in the list was the Speaker of Sarawak State Assebly Seating, Datuk Seri Mohamad Asfia bin Awang Nassar which received the Bintang Kenyalang Sarawak which carries the title of 'Datuk Amar'. Also in the list was Temenggong Kanang anak Langkau who received the Panglima Gemilang Bintang Kenyalang which carries the title 'Datuk'.
(picture from Utusan)
HE Tun Abg Muhammad Salahuddin bestowed State Honorary Medal to Temenggong Kanang anak Langkau