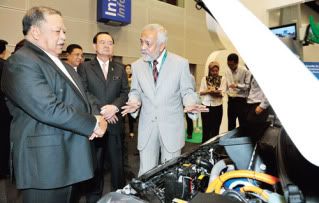 (picture from Utusan)
HRH Tuanku Syed Sirajuddin of Perlis hearing an explanation given by Datuk Zainuddin Che Din and witnessed by Datuk Seri Peter Chin Fah Kui

His Royal Highness the Raja of Perlis, Tuanku Syed Sirajuddin Putra Jamalullail consent to attend the International Green Technology Exhibition and Conference Malaysia 2011 (IGEM2011) held at Kuala Lumpur Convention Center (KLCC). His Royal Highness arrived at the vicinity of KLCC around 11am before been showed to the exhibition center consist of 600 booths from 24 countries. The IGEM2011 is a continuation of the previous IGEM2010, which is a Green Technology based exhibition held for 4-days starting from 7 until 10 September 2011. In IGEM2010, the exhibition succeed to get a number of transactions worth up to RM1.2 billion.
Also accompanied the Raja of Perlis were Minister of Energy, Green Technology and Water, Datuk Seri Peter Chin Fah Kui and wife, Datin Seri Ruby Chin; and the President of Malaysian Manufacturer Federation, Tan Sri Mustafa Mansur.