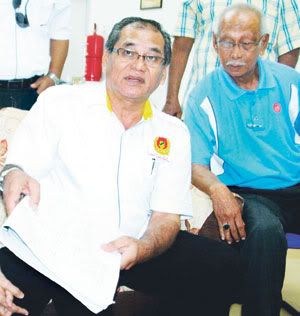 (picture from Utusan)
Tengku Zainol Rashid during a press statement in Alor Setar. He also showed a history record about the nation independence figures.

The Chairman of Persatuan Kerabat Diraja Kedah (PKDK),
Kedah Royalty Association,
Datuk Tengku Zainol Rashid bin Tengku Yahya which represented the descendant of His Highness Tunku Abdul Rahman said, they are against the Deputy President of PAS, Mohamad bin Sabu 'Mat Sabu' to discredit the contribution of the first Prime Minister to gain independence of Malaya without to spill one drop of blood as well as acknowledge the communist terrorist as a freedom fighter.
Tengku Zainol Rashid who is also a nephew to His Highness Tunku Abdul Rahman also said, his uncle and the country national heroes has made sacrifices in order to get independence from British. Among their sacrifices, they had to pawn jewelry to give money to Tunku Abdul Rahman to enable him to go to England for the discussion of independence. Tengku Zainol Rashid also said, the government need to take a decisive action against Mat Sabu and advice Mat Sabu to open his mind and openly apologize to them.