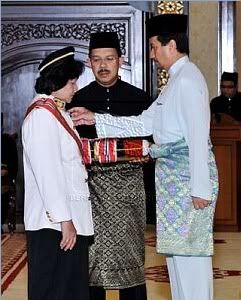 (picture from Bernama)
HM Tuanku Mizan Zainal Abidin bestowed an honorary award of Panglima Jasa Negara which carries the title 'Datuk' to Datuk Zalekha Hassan
His Majesty the Yang di-Pertuan Agong (Supreme Ruler) of Malaysia, Tuanku Mizan Zainal Abidin consent to bestowed an honorary titles and awards to 264 recipients in the ceremony held at Istana Melawati. The ceremony is in conjunction of the Birthday Celebration last June.
In the ceremony, six people received the
Panglima Jasa Negara
which carries the title 'Datuk'. Five people received the
Johan Mangku Negara
award. Seven received the
Johan Setia Mahkota,
one received the
Johan Setia Diraja,
69 received the
Kesatria Mangku Negara
and six received the
Kesatria Setia Diraja.
79 received the
Ahli Mangku Negara
and 91 people received the
Pingat Pangkuan Negara.