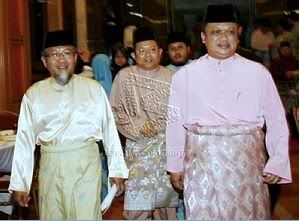 (picture from Utusan)
His Royal Highness the Raja Muda (Crown Prince) of Perlis, Tuanku Syed Faizuddin Putra Jamalullail consent to attend the dinner and inaugural lectures ceremony held at Banquet Hall, Petaling Jaya Municipal Council. Also accompanied the Prince was the Chairman of Malaysian Al-Nidaa', Shofwan Badrie bin Ahmad Badrie.
The ceremony was held to collect fund for development of Sekolah Menengah Tahfiz Al-Amin Chenderong Balai at Teluk Intan, Perak. The school is expected to operate in January 2012.