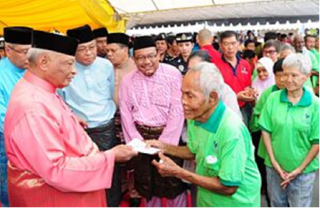 (picture from Bernama)
His Royal Highness the Sultan of Pahang, Sultan Ahmad Shah consent to attend the Eid-Fitri Open House of Bera Assemblyman Datuk Seri Ismail Sabri Yaakob who is also the Home Minister, Cooperation and Consumerism held at Kerayong Square. Almost 35,000 people attended the event which serve various traditional and modern delicacy such as ketupat, lemang, rendang, nasi dagang, cakes and many others.
In the event, the Sultan consent to deliver 'duit raya' contribution to Sang Riang Triang elderly Welfare House.