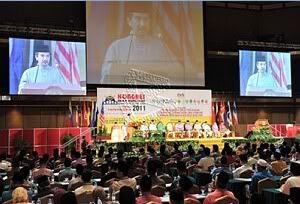 (picture from Bernama)
HM Tuanku Mizan Zainal Abidin officiate the first edition of the congress convention.
His Majesty the Yang di-Pertuan Agong (Supreme Ruler) of Malaysia, Tuanku Mizan Zainal Abidin consent to officiate the first Pan-Malaysian States Islamic Congress held at Putra World Trade Center (PWTC), Kuala Lumpur. It is the first time this such event were held organized by Jabatan Agama Islam Malaysia (JAKIM),
Malaysia Islamic Religious Department
. The two-day event took 'Pemacu Transformasi Ummah',
The drives of Ummah Transformation
as its theme
.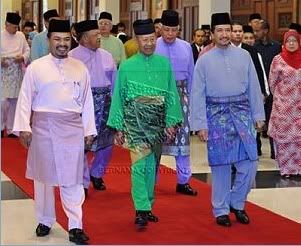 (picture from Bernama)
HRH Sultan of Kedah also can be seen attending the convention
Present in the ceremony were His Royal Highness the Sultan of Kedah, Sultan Abdul Halim Mua'adzam Shah; His Royal Highness the Raja Muda (Crown Prince) of Perak, Raja Dr. Nazrin Shah; His Excellency the Yang Dipertua Negeri (Head of State) of Melaka, Tun Mohd Khalil Yaakob and His Excellency the Yang Dipertua Negeri of Sabah, Tun Juhar Mahiruddin. Also attended the ceremony were Prime Minister, Datuk Seri Najib Tun Razak; His Royal Highness the Raja Muda (Crown Prince) of Perlis, Tuanku Syed Faizuddin Putra Jamalullail; His Royal Highness the Tengku Mahkota (Crown Prince) of Kelantan, Tengku Dr. Muhammad Fa-iz Petra and Minister at the Prime Minister Department, Datuk Seri Jamil Khir Baharom.
(picture from Bernama)
The Congress intends to discuss a strategic and role of States Islamic Religious Council for the development of ummah, as well as to be a platform of interactions and smart partnerships among the States Islamic Religious Council. For the matter, the idea has been brought to the 224th Meeting of Conference of Rulers on 14th June 2011, which the idea received a royal assent to proceed .
The idea of the congress was originally pointed out by Tan Sri Dr. Mohd Yusof bin Md Nor, the Chairman of LEPAI. The idea was first pointed out in the 36th Meeting of LEPAI on 3rd May 2010. He wants a convention to be held so that the function and role of all States Islamic Religious Council can be review and enhanced to further contribute to the development of ummah along with the flow of times. It can also be a platform to answer all questions regarding the arise current issues especially with the role of State Islamic Religious Council in term of education, economy and legislative fields.