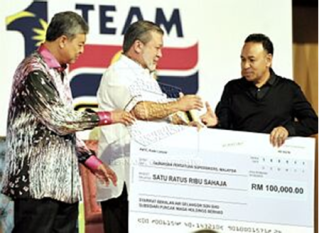 (picture from Bernama)
His Royal Highness the Sultan of Johor, Sultan Ibrahim ibni Almarhum Sultan Iskandar consent to attend the 1Malaysia Entourage Ceremony held at Putra World Trade Center. In the ceremony, the Sultan was accompanied by Minister of Defence, Datuk Seri Ahmad Zahid Hamidi received a replica check worth of RM100,000 from SYABAS who represented by Chief Executive Tan Sri Rozali Ismail.
The 1Malaysia Entourage will tour all around the nation in conjunction of National Day and Malaysia Day celebrations.