His Majesty the Yang di-Pertuan Agong (The Supreme Ruler) of Malaysia, Tuanku Mizan Zainal Abidin gave his consent to attend the second day of 224th Conference of Rulers Meeting chaired by His Royal Highness the Sultan of Johor, Sultan Ibrahim ibni Almarhum Sultan Iskandar. His Majesty arrived at the National Palace at 11.30pm accompanied by Prime Minister, Datuk Seri Najib Razak.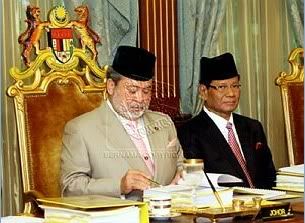 (picture from Bernama)
HRH Sultan Ibrahim of Johor chaired the 224th Meeting of the Conference of Rulers

The meeting was attended by all the Malay Rulers accept for His Royal Highness Yang Dipertuan Besar of Negeri Sembilan, Tuanku Muhriz ibni Almarhum Tuanku Munawir who underwent surgery for appendicitis at Pantai Hospital in Kuala Lumpur.
The Keeper of the Royal Seal, Datuk Syed Danial bin Syed Ahmad stated, the rulers were brief on internal security and defense status of the country by Inspector General of Police, Tan Sri Ismail Omar and Army Forces Chief, Gen Tan Sri Zulkifeli Mohd Zin respectively.