His Royal Highness the Sultan of Johor, Sultan Ibrahim ibni Almarhum Sultan Iskandar gave his consent to officiate the Special Cargo Berth operation of Tanjung Langsat Port Sdn. Bhd. (TLP), in conjunction of the Kembara Mahkota Johor (KMJ), Johor Royal Entourage which stopped by at Pasir Gudang. As the symbolic of the launching ceremony, HRH Sultan Ibrahim operated the Jumbo Reel Stadle Carrier owned by Asiaflex Products Sdn. Bhd. (Technip) which functions as lifting machinery for flexible pipe reel.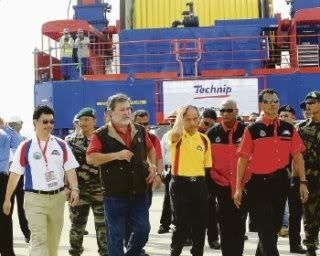 (picture from Kembara Mahkota Johor 2011)
HRH Sultan Ibrahim of Johor at Tanjung Langsat Port.
The convoy consist of 20 high-powered motorcycles arrived at Tanjung Langsat Port and was greeted by almost 1,000 people after the Sultan's departure at KD Sultan Ismail Jetty, Kota Tinggi. Also accompanied the Sultan were His Royal Highness the Tunku Mahkota (Crown Prince) of Johor, Tunku Ismail Idris ibni Sultan Ibrahim; State Secretary, Obet Tawil and District Officer of Johor Bahru, Burhan Amin.
The Special Berth was built in 2008 has a 400 meters long and has a capability to withstand the weight capacity of 40,000 DWT.