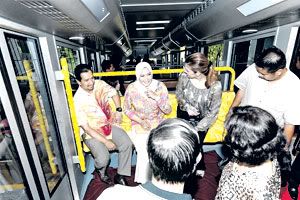 (picture from Utusan)
HM Tuanku Mizan Zainal Abidin and HM Tuanku Nur Zahirah with other VVIP in the train of Bendera Hill.
His Majesty the Yang di-Pertuan Agong of Malaysia, Tuanku Mizan Zainal Abidin gave his consent to officiate the Opening Ceremony of Al-Khamsa Horse Endurance Club at Taman Perbandaran Pulau Pinang. His Majesty arrived at 9.10 am and accompanied by His Excelency the Yang Dipertua Negeri (Governor) of Pulau Pinang, Tun Abd Rahman Abbas; The Chief Minister of Pulau Pinang, Lim Guan Eng and the Club Presiden, A. Mutalib Ismail. The club is the first Horse Endurance Club in Pulau Pinang and the club's construction cost about RM600,000 built in an area of 0.8 hectare and can keep up to 30 horses.
His Majesty spends around an hour touring around the club's stable and witnessed a horse show before joining with Her Majesty the Raja Permaisuri Agong (The Supreme Queen), Tuanku Nur Zahirah riding a train to the peak of Bendera Hill.
In the train to Bendera Hill, His and Her Majesties were accompanied by the Governor and wife, Toh Puan Majimor Shariff and the Chief Minister and wife, Betty Chew Gek Cheng and enjoying a spectacular scenery of Georgetown, the capital city of Pulau Pinang. After the rides, His and Her Majesties were invited to the official residence of Governor, Seri Mutiara Palace for lunch. His and Her Majesties ended their 2 days visit to Pulau Pinang and departed back to Terengganu in the evening.