His Royal Highness the Sultan of Johor, Sultan Ibrahim ibni Almarhum Sultan Iskandar launched Jom Ganyang Aedes Campaign, Let's eliminate Aedes Campaign in conjunction of Kembara Mahkota Johor (KMJ) 2011, Johor Royal Entourage which stopped at the town of Jemaluang, Mersing. The ceremony takes place at Jemaluang Hall. The royal entourage consists of His Royal Highness and other members riding a high-powered motorcycle were greeted by around 1,000 local citizens during their arrivals.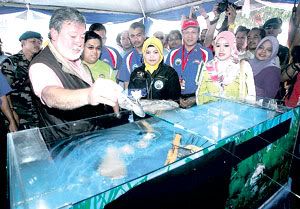 (picture from Utusan)
HRH Sultan Ibrahim of Johor during the launching ceremony of Jom Ganyang Aedes Campaign
In the ceremony, His Royal Highness the Sultan of Johor put a larvae drugs as a symbolic of the campaign launching ceremony. Later, His Royal Highness planted a tree of Cempaka Kuning to officiate the launched of Environment Campaign.
Also accompanied the Sultan of Johor were His Royal Highness the Tunku Mahkota (Crown Prince) of Johor, Tunku Ismail Idris ibni Sultan Ibrahim; State's Secretary, Obet Tawil; Minister of Defense, Datuk Seri Dr Ahmad Zahid Hamidi and his Deputy, Datuk Dr. Abd Latif Ahmad who is also the Member of Parliament of Mersing Constituency and District Officer of Mersing, Abdul Rahman Dawan. HRH Sultan Ibrahim later departed to Felda Tenggaroh 2 to deliver house keys under the program of Skim Pembangunan Kesejahteraan Rakyat, SPKR.
KMJ 2011 will be held for 4 days starting from 18th until 21st June. The entourage departed from Istana Tanjung in Muar and will tour all 10 districts in the state of Johor with a journey of almost 800 km. The convoys were participated by 30 high-powered motorcycle and 40 four-wheeled drives which shall ended the entourage at Sultan Abu Bakar Building in Muar.