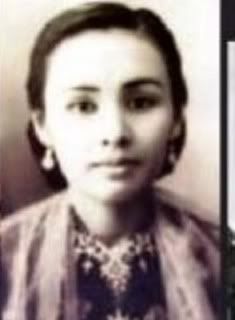 (picture from Maharum Bugis Shah)
HH Paduka Bonda Raja, Raja Saidatul Ihsan binti Tengku Badar Shah

The Mother of HRH Sultan Sharafuddin Idris Shah died at Ampang Hospital yesterday due to elderly illness. The Private Secretary of the Sultan, Datuk Mohamad Munir Bani in his statement announces that the Sultan's Mother, HH Raja Saidatul Ihsan binti Almarhum Tengku Badar Shah died around 9.00 am. She was 88 years old. The body of the late Sultan's Mother was brought to the Alam Shah Palace for paying the last respect. Her body was laid to rest at the Shah Alam Royal Mausoleum after Asar Prayer. Due to her death, the mourning period for the State of Selangor is one day, and 7 days for members of the royal family.

HH Raja Saidatul Ihsan was the first wife of Almarhum Sultan Salahuddin Abd Aziz Shah. The marriage produces three princes and four princesses. They are HRH Sultan Sharafuddin Idris Shah, HH Tengku Sulaiman Shah, HH Tengku Abd Samad Shah, HH Tengku Puteri Sofia, HH Tengku Zahariah, HH Tengku Puteri Arafiah and HH Tengku Puteri Aishah. HH Raja Saidatul Ihsan was never crowned as the Tengku Ampuan (Queen) of Selangor as she was divorced before her former husband; Sultan Salahuddin Abdul Aziz Shah ascended the throne.

(Picture from Bernama)
HM Tuanku Mizan Zainal Abidin, HRH Raja Nazrin Shah and HRH Tengku Fauziah among those who paid their last respect to the late Sultan's Mother

HM the Yang di-Pertuan Agong (The Supreme Ruler) of Malaysia, Tuanku Mizan Zainal Abidin was presence to paid his last respect. Also presences are the Raja Muda (Crown Prince) of Perak, Raja Nazrin Shah and the Raja Perempuan (Queen) of Perlis, Tuanku Fauziah.


(Picture from Bernama)
HRH Sultan Sharafuddin Idris Shah watering his mother's grave during the funeral