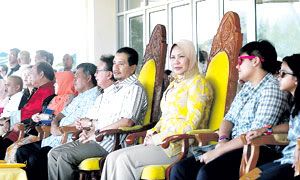 (picture from Utusan)
His Majesty Tuanku Mizan Zainal Abidin and Her Majesty Tuanku Nur Zahirah at the launching ceremony of National Pony Camp 2011 at Terengganu Equestrian Club.
His Majesty the Yang di-Pertuan Agong (The Supreme Ruler) of Malaysia, Tuanku Mizan Zainal Abidin gave his consent to officiate the National Pony Camp 2011 at Terengganu Equestrian Resort (TER) in Kuala Terengganu. The Supreme Ruler were accompany by Her Majesty the Raja Permaisuri Agong, Tuanku Nur Zahirah and their two daughters, Her Highness Tengku Nadhirah Zahrah and Her Highness Tengku Fatimatuz Zahra'.
This is the largest assembly with the participation of several new established equestrian clubs specifically for students to learn the skills about the equestrian sport. Also present were The Honourable Menteri Besar (Chief Minister) of Terengganu, Datuk Seri Ahmad Said and wife, Toh Puan Norliza Mahmud also the President of Malaysian Equine Council, Datuk Seri Mahamad Fathil Mahmood.