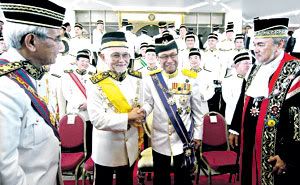 (picture from Utusan)
The Governor of Sarawak, Tun Abd Muhammad Salahuddin (two from right) shakes hand with Abd Taib Mahmud witnessed by the Speaker, Mohamad Asfia Awang Nassar (right).
The Yang Dipertua Negeri (Governor) of Sarawak, Tun Abang Muhammad Salahuddin bin Abang Barieng agreed to attend the First Opening Ceremony of 11th Sarawak State Assembly Seating. The Opening Ceremony witness BN renews their mandate to ruled Sarawak, but with an increasing number of opposition in the assembly. Also attended the ceremony was the Chief Minister of Sarawak, Tan Sri Abd Taib Mahmud and Speaker of the State Assembly, Datuk Mohammad Asfia bin Awang Nassar. In the ceremony, all State Assemblymen were reminded by the Governor to be discipline and not to arise any sensitive and racist issues when the Assembly is in session.
Unruly Behavior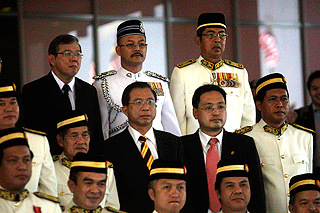 (picture from Media Cyber)
Opposition Leader of Sarawak State Assembly, Wong Hoo Leng (two from left), headed 11 DAP's MP who does not wear a ceremonial suits in the opening ceremony

The Democratic Action Party, DAP won the most seats among the Opposition Parties. And, the DAP members have always well-known for their tendency to not follow rules. For example is the wearing of Assembly ceremonial suits. Even though it is not compulsory, their excuses are always the same, lame excuses. The suits are a waste of taxes-payer money and require them to wear 'songkok', which is synonym with Malaysian Muslim identity and it is against the freedom of religion. Nevertheless, representatives from PKR and Independent have no problem wearing them.

Lame excuses, as always. You are elected to serve; ceremonial suit should not be a problem. How come these in-discipline politicians can be elected as Assemblymen? If it is for me, they are the first to be vote-out.