Assalamualaikum and Peace be upon all of you.
Welcome to my blog.
Hye guys, from past Monday to Thursday, I went to my friend house. So, I am not able to update the blog. Only for 4 days I was away, two hot topics appear on the net. Recently, the news of Regent of Kelantan, Tengku Muhammad Faris Petra stripping the state conferred title to seven individuals and also an exclusive story from Brunei Darussalam. His Majesty Sultan Hassanal Bolkiah divorces his second wife, Azrinaz Mazhar.
Brunei Royal Family
The Sultan of Brunei (middle), Sultan Hassanal Bolkiah is the Head of Nation and the Head of Government of Brunei Darussalam
Personally, the Radin's Blog (RB) Royal Portal specifically designs to covers the story of Malaysian Royal Families. Thus, Brunei Royal Family is not included, for now at least. I have other plan to include the Brunei Royal Family into the list and also some other Royal Family in the region, for example, Sulu Royal Family and other Indonesian Royal Families. But for now, I will focus more on Malaysian 9 royal families. Nevertheless, it is undeniable among the surviving 10 Malay Royal Families in the world, Brunei Royal Family can be considering as champion in everything.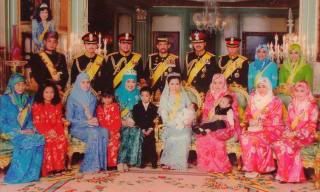 The Brunei Royal Family. (Pretty nice wasn't it??)
Living in the biggest palace in the world, among the richest monarch in the world, ruling the state with absolute power and the citizens of Brunei lived in a taxed-free country. (I'm speechless...)