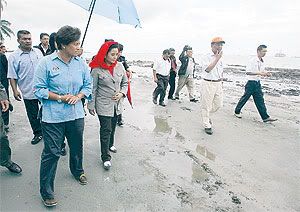 (picture from Utusan)
2nd June 2010 – HRH Sultanah of Johor, Raja Zarith Sofia ordered the local authority to take preventive measures against the foreign trading ships that pollute the cost of Pengerang. The pollutions due to garbage dumping and waste oil have affected the ecosystem and the live of people that depends on the sea to make a living. HRH Raja Zarith Sofia also heard a briefing about the pollution cause by the collision of two trading ships recently by the Chaiman of Johorean Department of Environment, Dr Zulkifli Abd Rahman.
Also present was Pengerang Parliamentary Member, Datuk Seri Azalina Othman Said and Vice Cancellor of UTM, Prof Datuk Zaini Ujang. Raja Zarith Sofia also encourage more NGOs to participate in helping to reduce the burden of fishermen involved.
TRIVIA
The collision between two ships, MV Waily and Bunga Kelana 3 has affected the lives of 1000 fisherman in the coastal area.