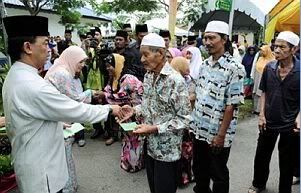 (picture from Bernama)
HRH Tengku Abdullah and HRH Tunku Azizah delivered contributions in their visit to the Asnaf Complex

His Royal Highness the Tengku Mahkota (Crown Prince) of Pahang, Tengku Abdullah ibni Sultan Ahmad Shah consent to make a visit to Kompleks Asnaf Majlis Agama Islam Pahang (MUIP),
Pahang Islamic Religious Council.
The Crown Prince were accompanied by his consort, Her Royal Highness the Tengku Puan (Crown Princess) of Pahang, Tunku Azizah Aminah Maimunah Iskandariah. Their Royal Highnesses consent to deliver a contribution to the Asnaf people.
The development of Kompleks Asnaf cost about RM 3.5 million primarily to become a center of the Asnaf factions, a group of people who doesn't have a place to live, unfortunate, converter or disaster evacuee.