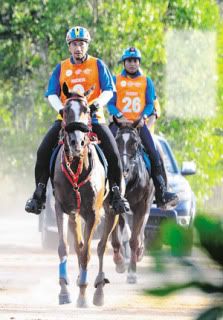 (picture from Utusan)
HM Tuanku Mizan Zainal Abidin riding his horse, Smith in the endurance challenge of Sultan Mizan Cup 2011 at Lembah Bidong, Setiu
His Majesty the Yang di-Pertuan Agong (Supreme Ruler) of Malaysia, Tuanku Mizan Zainal Abidin leading the horse endurance challenge of 120 km in the Sultan Mizan Cup 2011. The Tuanku Mizan Zainal Abidin compete with other 69 participants in the challenge riding the 'RTES Smith' represented the Royal Terengganu Endurance Stable (RTES).
The starting event was officiate by the Menteri Besar of Terengganu, Datuk Seri Ahmad bin Said. Also present at the ceremony was Her Majesty the Raja Permaisuri Agong (Supreme Queen) of Malaysia, Tuanku Nur Zahirah.
The 120km races has a time limits of 12 hours and divided into 6 checkpoints.
1st Checkpoint : 30km
2nd Checkpoint : 25km
3rd Checkpoint : 20km
4th Checkpoint : 25km
5th Checkpoint : 25km
Last Checkpoint : 20km