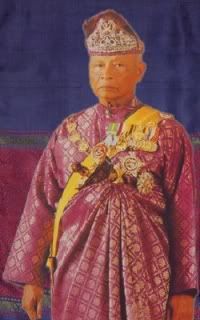 Today is the 81st Birthday Celebration of His Royal Highness the Sultan of Pahang, Sultan Ahmad Shah al-Mustain Billah ibni Almarhum Sultan Abu Bakar Riayatuddin Al-Muazzam Shah. In conjunction of the birthday celebration, 1014 recipients were enlist to receive state medal and award of Pahang Darul Makmur.
Among the recipients who received State medals for this year :-
HRH the Sultan of Johor, Sultan Ibrahim ibni Almarhum Sultan Iskandar. His Royal Highness shall receives the

Darjah Kerabat Sri Indera Mahkota Pahang Yang Amat Dihormati (DK)

.
Congratulations to the Sultan of Pahang in conjunction of His Royal highness 81st Birthday Celebration. Wishing His Royal Highness may reign in peace and harmony, with fair and justice.
DAULAT TUANKU