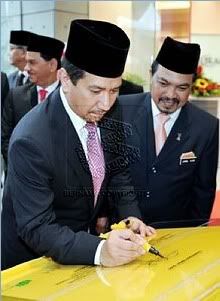 (picture from Bernama)
HM Tuanku Mizan Zainal Abidin signed the plate in the opening ceremony of Menara Bank Islam located at Jalan Perak, Kuala Lumpur

His Majesty the Yang di-Pertuan Agong (the Supreme Ruler) of Malaysia, Tuanku Mizan Zainal Abidin consent to officiate the opening ceremony of Menara Bank Islam. The 34-storey tower is located on endowment land belonging to the Majlis Agama Islam Wilayah Persekutuan (MAIWP),
Federal Territory Islamic Religious Council
costing about RM151 million to build. It was built and is being managed by Tabung Haji Properties, a subsidiary company of Lembaga Tabung Haji (Tabung Haji).
Also present at the opening ceremony were Minister in the Prime Minister's Department, Datuk Seri Jamil Khir Baharom and Deputy Minister, Datuk Dr Mashitah Ibrahim, Chairman of Tabung Haji, Tan Sri Abi Musa Asa'ari Mohamed Nor and Chairman of Bank Islam Malaysia Berhad, Datuk Zamani Abdul Ghani.